Actigraphy Motion Biosensors for Firbromyalgia Studies
Fibromyalgia (FM) is a neuropathic pain that affects millions of people in the United States. It, like most pain conditions, affects daily activity and sleep.The pain sensations are best measured by recording the patient's own perceptions (patient-reported outcome) but the related effects of pain on activity and sleep can be measured objectively with actigraphy.
Korszun and colleagues used actigraphy to monitor motion 24hrs/day in 28 healthy control patients, and 16 patients with fibromyalgia (FM) for 5-7 days.2
The actograms shown convey that compared to the healthy controls, the patients with fibromyalgia had less consistency in their levels of daytime activity and more movement during the normal sleep periods.
Kop and colleagues monitored the activity levels of 38 patients with fibromyalgia or chronic fatigue syndrome and 27 age-matched control subjects.1They reported no difference in the mean level of activity during the day but the patients with FM demonstrated a significantly (p=0.011) lower portion of the day engaged in the highest level of activity.
These findings show that actigraphy can provide useful insights into the activity patterns in patients with fibromyalgia.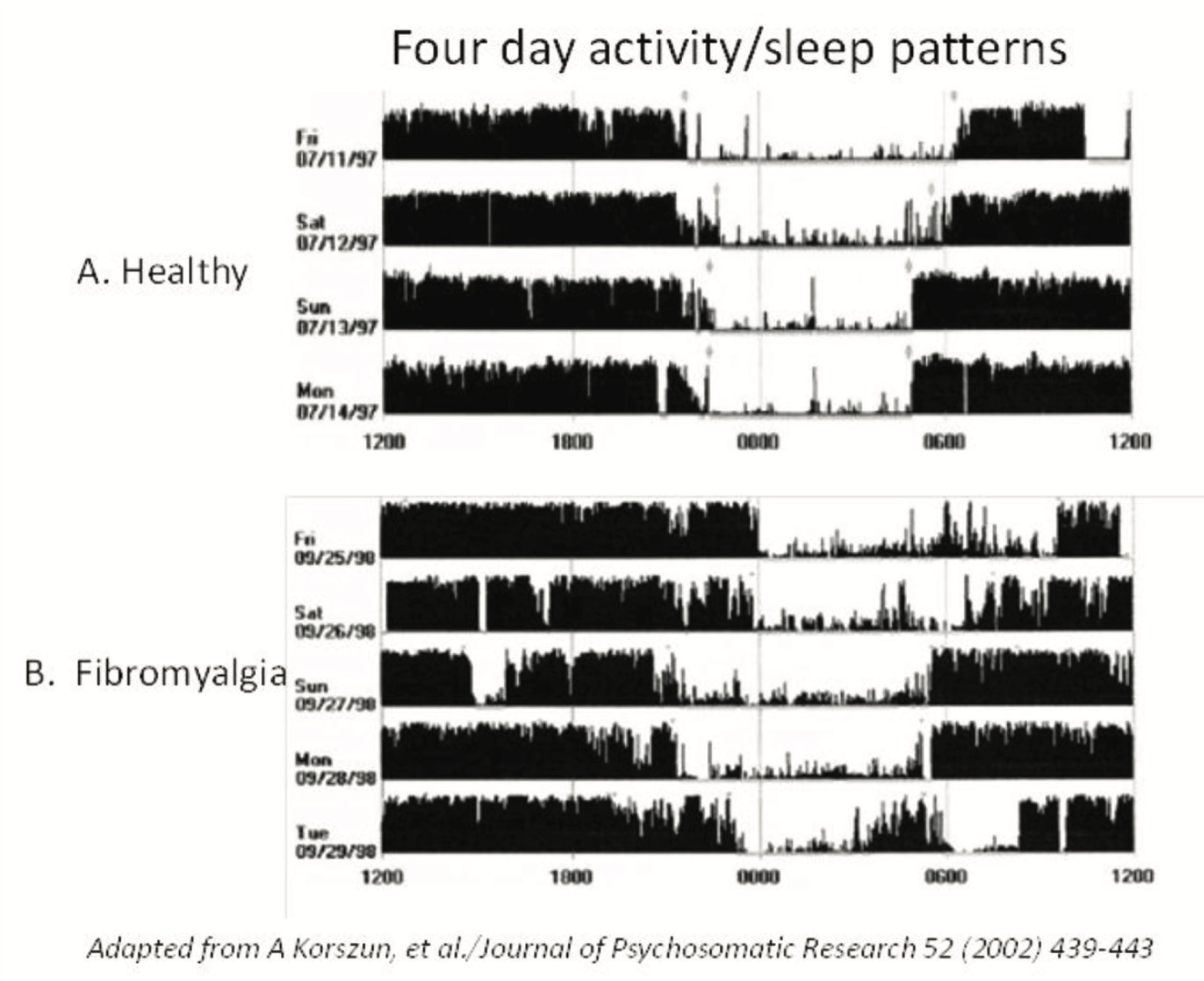 1. KopWJ,LydenA,BerlinAA,AmbroseK,OlsenC,GracelyRH,Williams DA, Clauw DJ.Ambulatory monitoring of physical activity and symptoms in fibromyalgia and chronic fatigue syndrome.Arthritis & Rheumatism 52 (2005) 296-303.
2 Korszun A,Young EA, Engleberg NC, Brucksch CB, Greden FJ, and Crofford LA. Use of actigraphy for monitoring sleep and activity levels in patients with fibromyalgia and depression. J. Psychosomatic Res. 52 (2002) 439-443.