Actigraphy Motion Biosensors for Depressive Disorder (depression, bipolar disorder) Studies
Actigraphy has been used to measure the effects of various depressive disorders on sleep3, circadian patterns2 and daytime activity patterns4, 5, 7. Although the association of circadian disorders with bipolar disorder has been well documented2, more recent literature has discussed the use of sophisticated signal processing tools to show alterations in motion patterns with depression. For example, Zeitzer used functional principal component analysis of 24-hr activity patterns to differentiate among patients with Azheimer's disease who were apathetic versus those who were not 7 .
Ding used similar techniques to discriminate among subjects who were healthy, mildly depressed and severely depressed1. Krane-Gartiser used signal processing endpoints on 65 min activity samples to show that actigraphy can be used to quantify depressive moods5.
A recent review article concludes that new analytical methods for analyzing motion data will aid in application to neurological or psychopathic disorders6.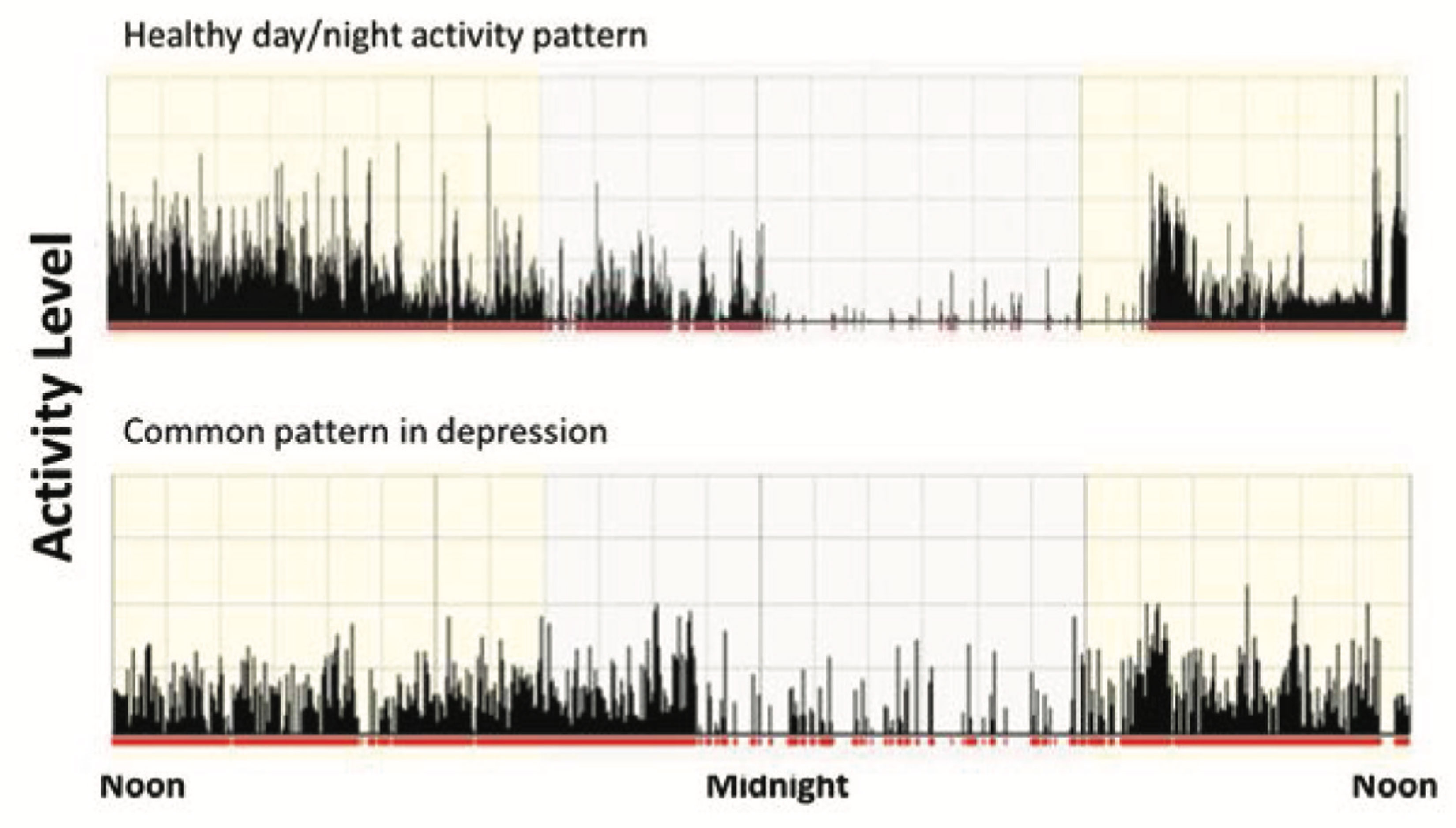 1 DingJ,SymanzikJ,SharifA,WangJ,DuntleyS,ShannonWD.Powerful actigraphy data through functional representation. Chance 2011, 24: 30-36.
2 Jones SH, Hare DJ, Evershek K. Actigraphic assessment of circadian activity and sleep patterns in bipolar disorder. Biopolar Disorders 2005: 7: 176-186.
3 Kaplan, KA,Talbot LS, Gruber J, Harvey AG. Evaluating sleep in bipolar disorder: comparison between actigraphy, polysomnography, and sleep diary. Bipolar Disorders. 2012, 14: 870-879.
4 KimJ,NakamuraT,KikuchiH,SasakiT,YamamotoY.(2013)Co-variation of depressive mood and locomotor dynamics evaluated by ecological momentary assessment in healthy humans. PLoS ONE 8: e74979. Doi: 10.1371/journal.pone. 0074979.
5. Krane-GartiserK,HenriksenTEG,MorkenG,VaalerA,FasmerOB. Actigraphyic assessment of motor activity in acutely admitted inpatients with bipolar disorder. PLoS ONE 9(2): e89574. doi:10.1371/journal.pone.0089574.
6. PanW,SongY,KwakS,YoshidaS,YamamotoY.Reviewarticle: Quantitative evaluation of the use of actigraphy for neurological and psychiatric disorders. Behavioural Neurology,Volume 2014,Article ID 897282, http://dx.doi.org/10.1155/2014/897282.
7. Zeitzer JM, David R, Friedman L, Mulin E, Garcia R,Wang J,Yesavage JA, Robert PH, Shannon W. Phenotyping apathy in individuals with Alzheimer disease using functional principal component analysis. Am. J. Geriatr Psychiatry 2013: 21: 391-397 (6/25).